The Karamba foundation provides children with shoes, school uniforms and school bags so they can go to school.
The Gambia is one of the poorest countries in the world. It is not self-evident there that every child goes to school. Children can go to school from the age of three. Besides the necessary study materials and the payment of school fees, the children have to wear a school uniform. Our foundation provides this for a school in the town of Toniataba. The original small school has grown considerably in the meantime. Finally many children from the region can go to school, because they now have a school uniform.
Support of young children
The educational system in The Gambia consists of several layers. Children from the age of 3 years and older can follow education at the nursery school. This nursery school teaches children up to 7 to 8 years, comparable to the Dutch primary school. This is followed by the primary school, the secondary school and then vocational education. The Karamba foundation mainly focuses on the nursery and the primary school because unfortunately this form of education is not or only to a very limited extent subsidized by the government.
Results
The Karamba Foundation supports the students of the Toniataba Lower Basic School. Every child that goes to school gets a school uniform, shoes and a school bag from the foundation. In addition, every school day the child receives a healthy meal at school. More than 300 pupils have already been provided with a school uniform. Almost all children from the region of Toniataba go to school now.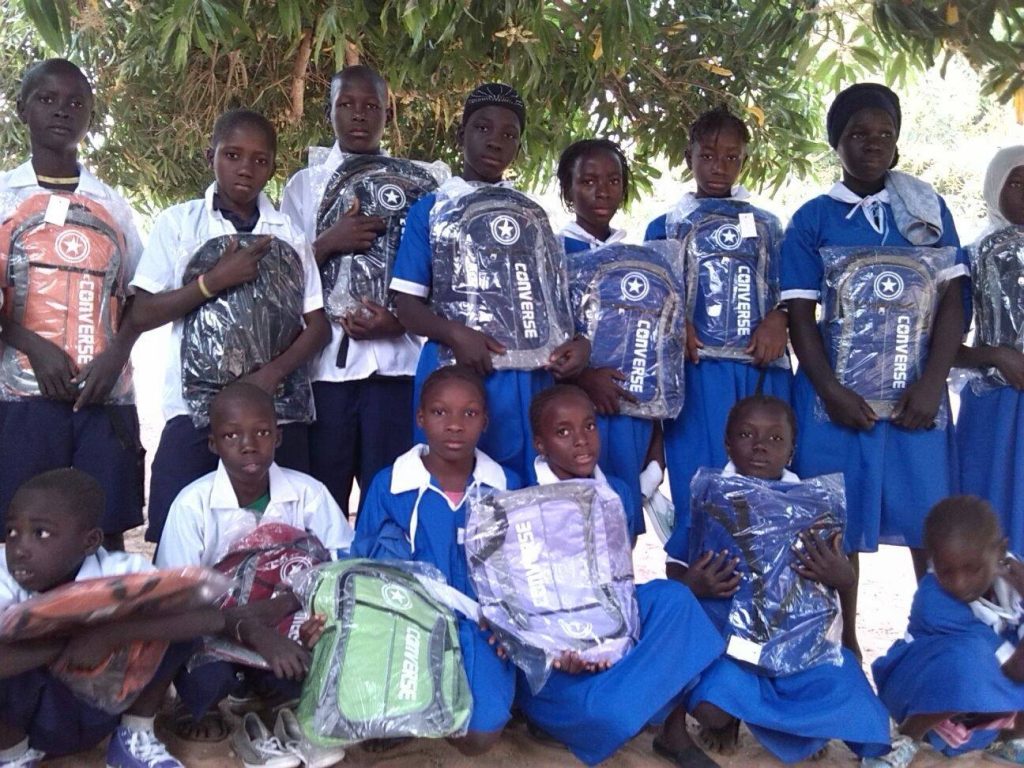 Employment
A positive side-effect is that the school uniforms are made by women from the village. In this way we also realise employment in the village of Toniataba. There is also something else beautiful behind this: we buy the school uniforms and materials from the proceeds of pimped bags. We provide bare felt and jute bags with beautiful, colourful fabric to sell them. We do this both in the thrift store of Soma, and from thrift store De Zaak van Ermelo in the Netherlands. We have already pimped and sold 700 bags!